Non-faradaic electrocatalysis. Part I. Acceleration of ester hydrolysis in the electrochemical double layer
Authors
Despić, Aleksandar R.
Dražić, Dragutin M.
Mihailović, Milhailo Lj.
Lorenc, Ljubinka
Adžić, Radoslav R.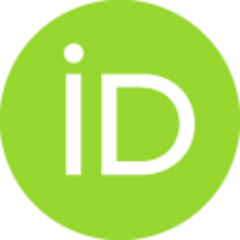 Ivić, M.
Article (Published version)

,
Elsevier B.V.
Abstract
Pulsation of potential of a gold electrode in the double-layer region, between the p.z.c. and a several hundred millivolts more positive value, was found to increase the rate of hydrolysis of tertiary butyl acetate. The homogeneous rate constant of hydrolysis at 35°C was found to be 1.4×10-6 s-1 in the absence of the electric field imposed by pulsation, while in the presence of the field at the ratio of the electrode surface area to the volume of reacting solution of 0.08 cm-1, it was found to be up to 7.2×10-5 s-1 indicating a heterogeneous rate constant of 9×10-4 s-1 cm-2. Effects of changing the potential limits, the frequency of pulsation and the ratio of time intervals during which the electrode has been maintained at one or the other potential limit have been recorded. The same effects are found when gold was replaced by silver. Tertiary butyl acetate is known to undergo hydrolysis by bond breaking between oxygen and tertiary carbon atom and the formation of a carb-cation radical
...
intermediate. It is assumed that the catalytic effect is due to the polarisation of the adsorbed and suitably oriented molecules along the bond in the high electric field acting upon it in the Helmholtz layer during the potential pulse. The process is a non-faradaic one since no charge is transferred across the double layer. © 1979 Elsevier Sequoia S.A.
Source:
Journal of Electroanalytical Chemistry, 1979, 100, 1-2, 913-925
Publisher:
Elsevier Sequoia S.A., Lausanne
Collections
Institution/Community
IHTM